We are planning on doing some remodeling of our facility in early 2023. As a result, we will be unable to offer Boarding Services during this time. We apologize for the inconvenience and will provide updates when we are again able to accommodate overnight borders.
Welcome to your pet's home away from home!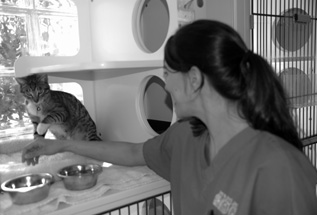 Looking for a place for your furry friend to stay while you're away? Look no further! Our veterinarian-supervised boarding facility includes accommodations for both dogs and cats, including those with special needs and those on the elderly side.
Feline Boarding
Our capacious cat condos include sunny views where the cats can play, lounge, and nap to their heart's content. The luxurious condos include a separate connected area for a litterbox and another for a comfy bed, both of which are provided by our facility during your pet's stay. They also have access to our multitude of fun toys and are played with during their stay by our lovely kennel staff members.
Have more than one cat? Ask us about our connecting cat condos while booking your pets' boarding appointment.
Feline boarding is $28 per night per cat, additional services such as nail trims provided during their stay upon request.
Canine Boarding
Our roomy canine boarding runs are available to accommodate canines of all shapes and sizes from tiny teacup Chihuahuas all the way up to the giant English Mastiffs. Our lovely kennel staff members take the dogs out for 15-minute sessions of one-on-one play time in our enclosed outdoor area 4-5 times per day. Extra play time is available for an extra charge upon request. We do not take the dogs out for walks or have group play time to ensure their safety and to also make sure they get the individual love and attention they deserve! Toys deemed safe to play with by our veterinary staff are given to your pets during their stay for hours and hours of non-stop fun, so even if your pet is among the destroyer dog crowd they can still be safe and happy.
Have more than one dog? Ask us about our connecting runs while booking your pets' boarding appointment.
Canine boarding starts at $45 per night per dog and increases based on weight. Additional services such as baths or nail trims provided during their stay upon request.
Call us today to make your reservation at 510-521-1700.
Pressed for time for boarding check-in? No problem, feel free to fill out the boarding check-in sheet below prior to your pet's stay to expedite the process and get yourself on your way a little faster.
Hours
Mon - Fri: 8:00am – 6:00pm
Sat: 9:00am – 4:00pm
Sun: 10:00am – 4:00pm
Doctors Hours by Appointment Only